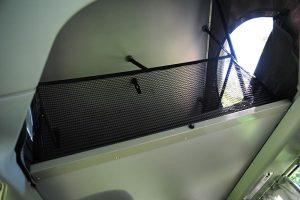 I have been looking for a solution to prevent the kids from falling out of the top bed when sleeping.
To solve this problem, or to prevent your pillow from falling down at night, there's an original VW saftey net. However they are not easy to come by and when they are for sale second hand, sellers seem to believe the nets are made of pure gold. So I went in search of a DIY-solution.
And what is simpler then a wooden plank? Well, a multiplex plank, because it;s not as heavy.
On the one side, the plank rests on the bedboard (about 6 cm) and reaches up to the matrass. On the sides and at the front, the plank rests on the frame of the upstairs bed. The plank fits exacty between the two vertical bars that hold the roof open. If cut to size, this is enough to keep the plank neatly in place. To be extra sure though, I made a round hole in the plank that goes over the locking pin of the roof. Which makes it impossible for the plank to move by accident. The hole is lined with a small peace of PVC pipe to prevent the wood from splitering. When driving, the plank can be stored in the upper bed and the roof will still close without problem. The 9mm multiplex plank is strong enough to carry the weight of a child when moving around in the bed. To edges of the plank have u-profiles of softer plastic material to avoid splintering. And in theory you could add some carpet material in the color of the can to make it all look a bit better.
Cutting the plank to size.
110×70 cm and 9mm thick.
Fits perfectly.
To keep the plank safely in place, I added a hole that goes around the locking pin of the upper bed mechanism. A small piece of PVC piping prevents damaging the plank.
A plastic profile around the edges to prevent splintering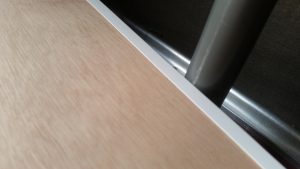 The plank filts needly between the bars of the folding roof..
The plank can be stored in the upper bed when driving.
Sometimes it's nice to be easy to check up on the kids. So I added a hinge that basically turns the plank into a hatch.
The hatch…
We have been using the hatch for quite a while now and are quite happy with how it turned out. Another advantage is that when an adult sleeps up top, the bed is suddenly much longer. So even tall people have a luxurious bed.