During an enormous rain shower we suddenly noticed small drops of water dripping down the kitchen window. On the inside!
Of course that is not something you want. Especially not, since that water can drip behind the kitchen and cause rust and even potentially damage the heater.
It didn't happen often, only when it was pouring down with rain, which isn;t very common during holidays. But still, this needed to be fixxed.
Our trustworth VW dealer inspected it and came to the conclusion that the entire window needed replacing. However, these windows are very hard to find and the cost would be around a thousand euro's. That wasn't an option.
So, on a sunny day I decided to dismantle the window. Which turned out ti be quite easy, even for a layman like myself. First you open the window and remove the small rod that hold sthe window open.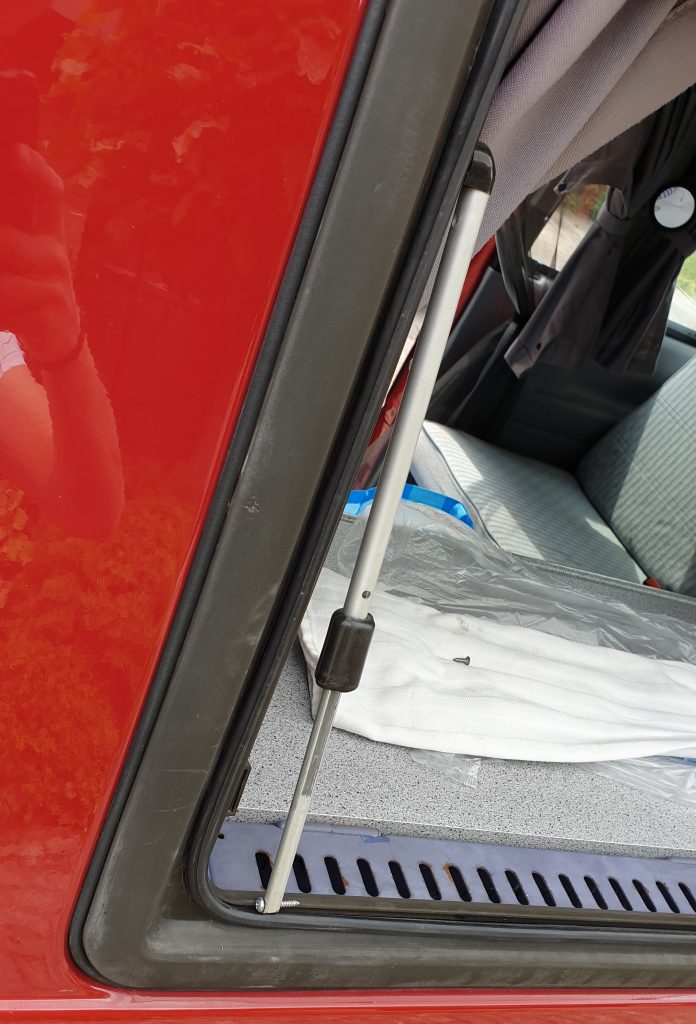 After that you can hold the window up and you'll see several screws that you can remove.
The next step is to remove the window. The windows is 'shoved' into a U-profile. Cautiously remove it and you are left with a window and a profile.
AFter removing the window, the reason for the leakage became evident. The rubber seal around the window frame wasn't in the best shape. It's possible to still find a replacement, if you serach the internet, but mine was still in an ok shape in most places. So I decided to rinse it, dry it and coat it with petroleum jelly to keep water out. I put the window back in it's place and made it rain. By means of the garden hose. Not a drop of water seen since. So not only did that solve the problem, it also saved us quite a few euro's.